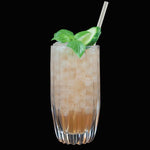 BUSS N°509 REBEL'S PLEASURE
Origin: Twist on a classic Tom Collins.
Serving steps for 1 glass:
Muddle the raspberries in a highball glass, add Buss N°509 Rebel Cut, Lemon juice, sugar syrup and fill the glass with crushed ice.
Top with sparkling water (e.g. Chaudfontaine Bruis) and stir gently for a few times.
Garnish mint sprig and cucumber.