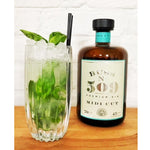 BUSS N°509 EAST MEETS WEST
50 ml

 

BUSS N°509 Midi Cut Gin
30 ml Lemon Juice
20 ml Sugar syrup
3 Drops Chili Tinctuur
8 Basil leaves
40 ml classic tonic (e.g. Finley Sea Salt & Lemon Tonic)
Origin: Variation on a Cooler by Carl Van Droogenbroeck
"A Cooler is a simple tall thing that are of little mixological interest but are mighty refreshing on a hot day" David Wondrich.
Serving steps for 1 glass:
Add the basil to the glass, gently muddle and pour in the remaining ingredients.
Fill the glass with crushed ice and top with Chaudfontaine Bruis.
Garnish with Basil.