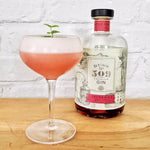 BUSS N° 509 FIZZ ME UP
Ingredients:
The first printed reference to "fizz" is in the 1887 edition of Jerry Thomas's Bartender's Guide, which contains six such recipes. Known as a hometown specialty of New Orleans, the gin fizz was so popular that bars would employ teams of bartenders that would take turns shaking the drinks.
Serving steps for 1 glass:
Shake all ingredients and double strain into a chilled martini glass.
Garnish with lemon zest.