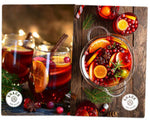 SHACKRUM SHACK PUNCH PERFECT SERVE
Create a Christmas aperitif like a pro in 5 simple steps with our Red Spiced rum. You can create this Shack Punch in a big bowl, now you have an excellent rum aperitif for many guests at once!
For 1 serving use:
6cl Red Spiced Shack Rum
10ml lime juice
30ml orange juice
30ml pineapple juice
Ice cubes and/or shaved ice
(option: Angostura bitter)
Possible decoration:
Fresh mint leaves
Fresh slice of orange
Pineapple leaf
Create the cocktail
Add ice in a cocktail shaker
Add 10ml lime juice
Now add 30ml pineapple juice and 30 ml orange juice
Finally add 60ml Shack Rum Red Spiced
SHAKE IT… SHAKE IT… SHAKE IT… (or stir)
You can decorate this cocktail with fresh mint, orange slices, pineapple leaves and maybe a few drops of Angostura Bitters
Cheers!