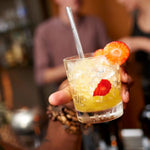 3-FOLD MYSTERY – A SWEET BUT TEASING SHACK RUM HONEY
For one magical serving one needs 3 times the same measurement.
For 1 serving use:
Mix and shake all three ingredients with passion, poor into a large chilled cocktail glass. For a hurricane crush mix all ingredients with ice into a blender and blend until smooth.
— Sometimes, you need a little bit of Vodou